And Im at it again! Coming up in September is the Spring Harvest Festival in Palmwoods, QLD, Australia. A celebration of food and art, it promises to be a great event! My exhibition will kick off on Friday 6th September at 5.30pm, in the Tin Shed behind Homegrown Cafe in Palmwoods. The exhibition will run until 14th September and will be open from 6.30am to 4pm daily.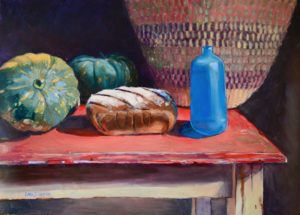 The exhibition is a series of paintings that reflect on the celebration of abundance and the corresponding responsibility we have for the stewardship of limited resources. This is especially important as we enter into unknown territory globally, with the effects of climate change being felt and experienced all over the world. It considers our ordinary, daily choices within this issue, and how little things are connected to much bigger systems which have a global impact for good or for bad.
Hope to see you there…Ill be around on the 6th and 7th September. Come meet the artist!