Lara began pursuing painting in earnest in 2006 in Yackandandah Victoria. Fortunate to be able to sit under the tuition of renowned Watercolourist Charles Sluga, she found a love for the spontaneous medium.
A preference for portraiture has led Lara to explore other mediums, particularly oil paint which tends to produce a richer warmth. Watercolour however remains her first love, with it's fresh translucency.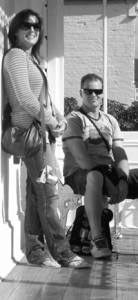 In a unique opportunity in 2008-09, Lara spent 12 months in Thailand with her family and was able to spend time with Thai and Lisu people, capturing some intimate moments in paint.
Now living on the Yorke Peninsula in South Australia, Lara has begun teaching painting from her home in Moonta Bay. She had her first solo exhibition in February 2012 at the Moonta Town Hall Gallery.