Follow the link to read this article on the Small Art School – with a little bit from me!
http://www.siemreappost.com/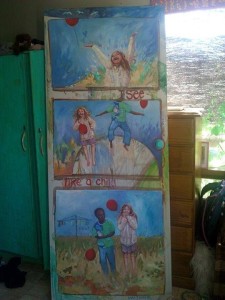 Had the best weekend at #SurrenderAdelaide joining the conversation about expressing love in our neighbourhoods, around issues of social justice. Great, inspiring and real speakers including Billy Williams and Shane Claiborne sharing their own stories of involvement. I joined with a group of artists who each painted/decorated a door on the topic "The Kingdom NextDoor"…it was great to have the opportunity to contemplate this issue and led me to think about The Dream that God has for humanity…how full of hope!
So SALA is fast approaching and you can feel the anticipation as venues receive   paintings! Its gonna be great! My paintings are going to be hanging at the Tabor Adelaide venue and also Moonta Gallery of the Arts. So add those to your SALA calendar.
I visited the  Gallery of South Australia on Saturday and enjoyed the installations by fellow SA artists at The Heartland. Plus, as I always have, I LOVE looking at works by Aussies from the Heidelberg school.  Nothing beats being able to get right up close and see the brush strokes and the texture, trying to work out what they have done.  I wonder what art from my lifetime will be chosen as memorable enough to hang in the galleries of the future…
If you're getting a little bit of cabin fever with all this winter rain, I have the perfect idea to get you out and mixing with the rest of society, and yet dry, cosy and contemplative. The Port Pirie Regional Art Gallery is hosting Patterns of Spirituality- The Grace of God from June 22 to July 21 2013. I dropped my entry in today and was impressed with the lovely art space. Unfortunately I can't make it to the show as I will be overseas, but someone go see it, enjoy the peace, do a little pondering and tell me your thoughts!
Im very excited to announce that last night I won first prize at the Kernewek Lowender Art Prize! With lots of great artwork on show it could be anybody's game. It was a real privilege to also have the work then acquired for the permanent collection of Kernewek Lowender. I am very honored and one happy chicken!